Pre-Fabricated A-Frame Home Model POP 1.7 | 409 sq. ft
$7.231,87*
*Approximate value. May vary according to the exchange rate of the day. The display amount does not include shipping nor assembly costs. Get in touch to receive the most up to date values.
Wire Transfer;

Credit Card;

PIX and Boleto (only available in Brazil).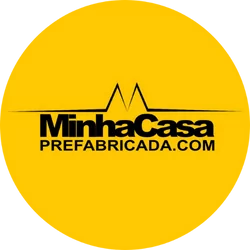 About this PreFab Home Kit
Prefabricated A-Frame Kit with 1 bedroom, 1 bathroom, combined living room and kitchen. The kit features a large glass facade and a mezzanine for a bedroom with incredible views of the property. An ideal chalet for lodges, hotels, glampings, vacation homes, country houses, estates, and ranches.
Dimensions: 16,4 ft x 16,4 ft.
Land Size Recommendation: Any.
Itens included in the kit
20mm Frontal: Wall with interlocking male and female joints, 14cm wide, to be installed horizontally. The pieces are 3 meters long;
10x10cm (Milled) Uprights: These are the wooden columns measuring 0.10×0.10cm, placed at every meter for enhanced structural strength;
10mm Ceiling: Pine autoclave ceiling to be installed only on the interior of the house. Note: The ceiling should be flatly fixed;
0.02×0.05cm Slats: Slats for the ceiling structure to be placed every 50cm, ensuring the ceiling remains intact over time;
2x4cm Electrical Channel: Wooden channel used to cover the surface-mounted plastic channel. The pieces are 3 meters long;
2x2cm Half Round: Used for finishing the ceiling, providing a polished appearance. The pieces are 3 meters long;
6cm Trim: Trim for window frames, both internal and external sides, measuring 6cm;
Roof Structure: Use 0.06×0.12cm and 0.08×0.16cm beams for the roof, suitable for colonial-style or similar tiles;
15cm Fascia: Placed at the edge of the roof for attachment and alignment of the ends;
Windows and Awning Windows: Awning window for the bathroom measuring 0.40×0.60cm, made of mixed wood, and windows measuring 1.20×1.00m;
Smooth Internal Door Kit: Smooth internal door with angelim pedra veneer, sized 0.70×2.10m for the bathroom and 0.80×2.10m for the bedrooms. Includes hinges, lock, and natural mixed wood door frame;
External Door Kit: Mixed wood external door, standard size 0.80×2.10m. Includes hinges, lock, and natural mixed wood door frame;
Sliding External Door Kit: Sliding external door as per the project specifications. Includes multipoint lock;
4.0×40 MDF Screws: 40x40mm screws for fixing the frontals (walls);
Wood Screws, Philips Flat Head, 4.0x25mm, Box of 500 Pieces: 40x25mm screws for securing the ceilings;
Assembly Manual: Comprehensive manual for the prefabricated house assembly, including all the necessary details.
Have Any Doubts?
Frequently Asked Questions (FAQ)
Yes! Minha Casa Pré-Fabricada Construction Company offers a warranty of up to 15 years against termites, woodworms, borers, and decay.
This construction company exclusively uses Autoclaved Pine. This wood treatment process ensures greater durability and longevity for Pine. Learn more about Autoclaved Pine Houses.
Following the manufacturer's recommendations and taking care to prevent leaks and infiltrations, a wooden house can last an average of 50 years without the need for renovations.
The Brevard Homes is a blog and a facilitator for importing Wooden Houses and A-Frame kits from Brazil.
We do not build or sell Prefabricated Wooden Houses directly, instead we partnered with a well known constructor in Brazil that specializes in exporting Prefabricated Houses. Taking advantage of the exchange rate, you can get good quality homes for a fraction of the price.
The Kits include all the wooden components of the house's structure, such as:
Walls;

Ceilings;

Ceiling slats;

Roof structure (roof framing);

External doors;

Windows;

Trim;

Baseboards;

Electrical wiring channels;

Half-round for the ceiling;

Assembly manual.
Due to the varying size and complexity of each Kit, each model of prefabricated house may contain more or fewer items in the Kit. Always check the descriptive specifications on the website.
The Pre-Fabricated Kits from this construction company DO NOT include:
Electrical materials;

Masonry materials;

Plumbing materials;

Painting materials;

Roof tiles;

Finishes such as flooring and tiles;

Labor.
The construction company usually recommends assembly labor for the Kits if the customer doesn't have available masons and carpenters or doesn't want to do the construction in a "do-it-yourself" style. After making the purchase, simply contact customer service to receive a recommendation.
ATTENTION: The quantity and availability of specialized labor recommendations will depend on each region.
The construction company commits to delivering the kits within 60 consecutive days. However, typically, the kits are delivered before this deadline. In cases of raw material shortage or logistical issues, there may be an additional 10 consecutive days added to the final delivery deadline.
Keep in mind that this time is for delivery at the port. Shipping times will vary according to the location.
The time it takes to build a Pre-Fabricated House depends on variables such as the hired labor, the type of terrain, the size of the property, and even the weather (which can pause the assembly process due to rain and other inclement conditions).
On average, it is usually considered that the assembly of 10 square foot takes about 1 day of work. Therefore, a 540 sq. ft house can take up to 50 days to be completely ready for occupancy.
Initially, no. However, the construction company allows changes in size or positions of openings (windows and doors) in relation to the models in the main catalog. The only thing to be aware of in these cases is that a new assembly manual is not provided to accommodate these changes.