Buy Affordable Prefab Homes!
Chalé De Madeira: Your Destination for AFFORDABLE Pre-Fabricated Houses and A-Frames!
BUY A PRE-FAB HOME STARTING AT
$1.964,00

!

Are you dreaming of owning your own home but find traditional construction costs to be overwhelming? Look no further! We offer a revolutionary solution that combines affordability, efficiency, and quality – affordable pre-fabricated houses and A-frames imported from Brazil directly to your location.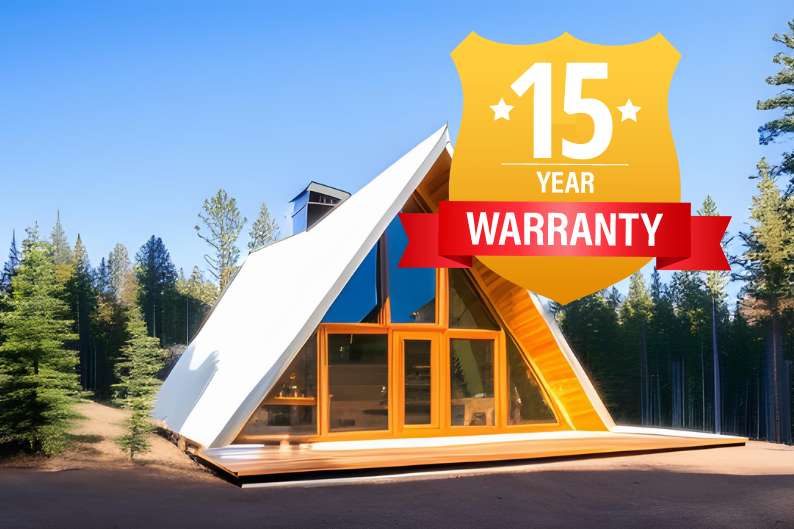 Why choose our Pre-Fabricated Houses and A-frames?
While prefabricated houses may not be suitable for everyone or every situation, they offer numerous benefits that make them an attractive option for those seeking cost-effective, efficient, and customizable housing solutions – specially when their prices are so much affordable!
Cost-Effective
Our pre-fabricated houses and A-frames are designed to fit your budget without compromising on quality. By streamlining the construction process, we eliminate unnecessary expenses and pass the savings onto you. Now, you can achieve homeownership without breaking the bank.
Speedy Construction
With traditional construction, you might have to wait months, or even years, to move into your new home. Our pre-fabricated houses and A-frames are built off-site in a controlled environment, allowing for rapid assembly on your property. Imagine settling into your cozy and comfortable space within weeks!
Sustainable and Eco-Friendly
Our commitment to the environment is evident in every aspect of our construction. We prioritize energy efficiency, use eco-friendly materials, and employ sustainable building practices. By choosing our pre-fabricated houses and A-frames, you contribute to a greener future.
Ready to take the next step towards affordable homeownership? Reach out to our expert team today!
We provide comprehensive support and guidance throughout the entire process, from selecting the perfect design to managing logistics and delivery.
Find Us
Business Registration
42.646.538/0001-18
CHALE DE MADEIRA EMPREENDIMENTOS DIGITAIS LTDA
Address
Rua Príncipe Humberto, 112, Conj. 44 Centro – São Bernardo do Campo/SP. CEP: 09.725-200
Frequently Asked Questions
Yes! Minha Casa Pré-Fabricada Construction Company offers a warranty of up to 15 years against termites, woodworms, borers, and decay.
This construction company exclusively uses Autoclaved Pine. This wood treatment process ensures greater durability and longevity for Pine. Learn more about Autoclaved Pine Houses.
Following the manufacturer's recommendations and taking care to prevent leaks and infiltrations, a wooden house can last an average of 50 years without the need for renovations.
The Chalé de Madeira is a blog and a facilitator for importing Wooden Houses and A-Frame kits from Brazil.
We do not build or sell Prefabricated Wooden Houses directly, instead we partnered with a well known constructor in Brazil that specializes in exporting Prefabricated Houses. Taking advantage of the exchange rate, you can get good quality homes for a fraction of the price.
The Kits include all the wooden components of the house's structure, such as:
The Pre-Fabricated Kits from this construction company DO NOT include:
Electrical materials;
Masonry materials;
Plumbing materials;
Painting materials;
Roof tiles;
Finishes such as flooring and tiles;
Labor.
The construction company usually recommends assembly labor for the Kits if the customer doesn't have available masons and carpenters or doesn't want to do the construction in a "do-it-yourself" style. After making the purchase, simply contact customer service to receive a recommendation.
ATTENTION: The quantity and availability of specialized labor recommendations will depend on each region.
The construction company commits to delivering the kits within 60 consecutive days. However, typically, the kits are delivered before this deadline. In cases of raw material shortage or logistical issues, there may be an additional 10 consecutive days added to the final delivery deadline.
Keep in mind that this time is for delivery at the port. Shipping times will vary according to the location.
The time it takes to build a Pre-Fabricated House depends on variables such as the hired labor, the type of terrain, the size of the property, and even the weather (which can pause the assembly process due to rain and other inclement conditions).
On average, it is usually considered that the assembly of 10 square foot takes about 1 day of work. Therefore, a 540 sq. ft house can take up to 50 days to be completely ready for occupancy.
Initially, no. However, the construction company allows changes in size or positions of openings (windows and doors) in relation to the models in the main catalog. The only thing to be aware of in these cases is that a new assembly manual is not provided to accommodate these changes.